Unique Dishes to Try for a Hearty Italian Dinner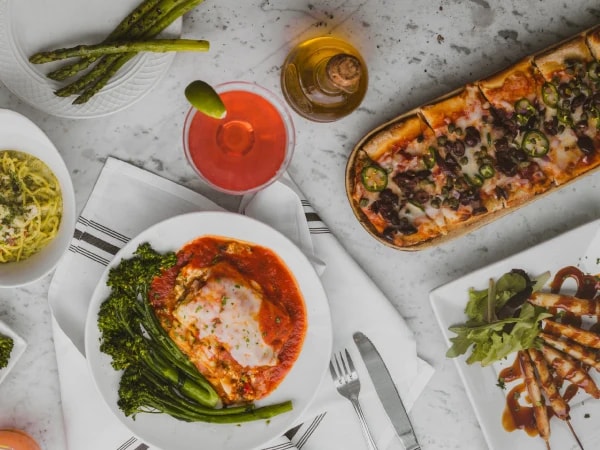 It's no secret that Italian cuisine is deliciously rich and undeniably satisfying. Here are five
must-try Italian-inspired specialities to tantalise your tastebuds, all available at restaurants here at City Centre Mirdif. Buon appetito!
Pizza Al Taglio
Caprino Pizza
Enjoy an authentic slice of pizza at this homegrown Italian eatery. The perfectly baked base is dressed with tomato sauce, mozzarella, artichokes, black olives, sun-dried tomato, goats' cheese, and topped with baby greens and a balsamic reduction.
Switch
Pink Risotto
This sumptuous rice dish is as pretty as it is delicious. You'll love the flavourful blend of slow-cooked risotto rice, chicken, and mushroom - and the rose hue is definitely one for the 'gram!
Parker's
Black Lemon Shrimp Pasta
Lemony, cheesy, and creamy, this dish is a seafood lover's delight. Enjoy the juicy shrimp and inky black pasta, drenched in a garlicky sauce, and topped with gratinated mozzarella and parmesan cheeses.
Paul
Linguine Bolognese
If you're looking for a classic Italian meal, then this dish will hit the spot. This hearty linguine pasta is cooked with rich Bolognese tomato sauce and topped with parmesan cheese. Mamma mia!